Français
52% of First Nations households with children have difficulty putting enough food on the table.
Give today to help provide healthy food to children.
How school meals make a difference

Better Health for Children
School meals provide children with good nutrition at a vital age, which in turn has huge long-term health benefits.

More food for the whole family
School meals stretch food budgets so everyone in the family gets more food.

Improved Learning
School meals increase school attendance, and children with full tummies learn better. Long-term benefits include higher graduation rates and better performance on standardized tests.
Donate school meals today
Thank you for your support
More than 270,000 meals and snacks are provided to children in Indigenous communities across Canada each year.
Your help is needed to ensure that all children will continue to receive the same healthy meals at school this year.
School meals provide food security and ensure children are eating well
At just 11 years old, Grayce who lives in New Brunswick knows the importance of school meals. She tells us "it is important that we have meals at school because some kids may not have access to healthy meals at home and in order for your body to feel right and your brain to be healthy you need to fuel it with healthy food to learn."
Grayce is right, students who eat regular healthy meals are less likely to be tired, are more attentive in class, retain more information and overall do better in school than their peers who do not have access to regular healthy meals.
At Grayce's school, all children who attend the school receive the same school meals. This means that children who may not have access to healthy food at home aren't singled out. But it also means that the staff must stretch their budgets to ensure that each child is fed.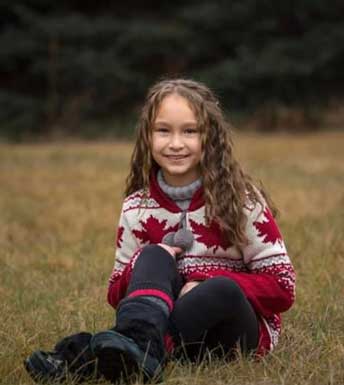 About Canadian Feed The Children
We are an independent, secular development agency with over 35 years of experience feeding children.
We take a community-led approach to improving food security in the communities where we work.
We're an awarding-winning, 5-star rated charity that envisions a world where children thrive free from hunger and poverty.
Frequently Asked Questions
What are my payment options?
You can make a one-time or monthly online donation to CFTC using MasterCard, Visa, American Express or PayPal. You can also donate by calling 1-800-387-1221 between 9am – 5pm EST, Monday to Friday.
Can I 'designate' my donation to a specific country?
Yes. The online donation form gives you the option to designate your donation to one of our five countries of operation in Bolivia, Canada, Ethiopia, Ghana or Uganda.
How can I stay up-to-date on the impact of my donation?
Donors receive our monthly eNewsletter with updates from the children, families and communities you help support. You can also come online whenever you like to read our blog or download donor publications.
Will I receive a tax receipt for my charity donation?
Yes, all charity donations to CFTC are tax receipted. When you donate online, you will receive an immediate charitable tax receipt in PDF format by email. When you donate by phone, you can choose to receive an electronic receipt or have one mailed to you, usually within two weeks.
For our supporters' convenience, and in order to keep administrative expenses low, one income tax receipt per year is issued to monthly donors. This is sent each February for the previous year.
Canadian Feed The Children's charitable registration number is 11883 0983 RR0001. See the Government of Canada's policy statement for charitable tax receipts for more information about charity tax receipts.
Is Canadian Feed The Children affiliated with a specific religion?
Canadian Feed The Children has no religious affiliation. While we may work with local partners who are affiliated with a specific religion, we are dedicated to helping children regardless of their race, religion or gender.
Does Canadian Feed The Children belong to a 'parent' organization?
Canadian Feed The Children was founded in Canada in 1986 as an independent international development agency and we still remain that way today.